SKU: 26412-P
Special Price
£129.95
Regular Price
£214.12
The Black Crown Hurricane Pro 2022 padel racket is made of highly resistant materials. It is the favourite of Marta Marrero, who ranks 5th in the World Padel Tour.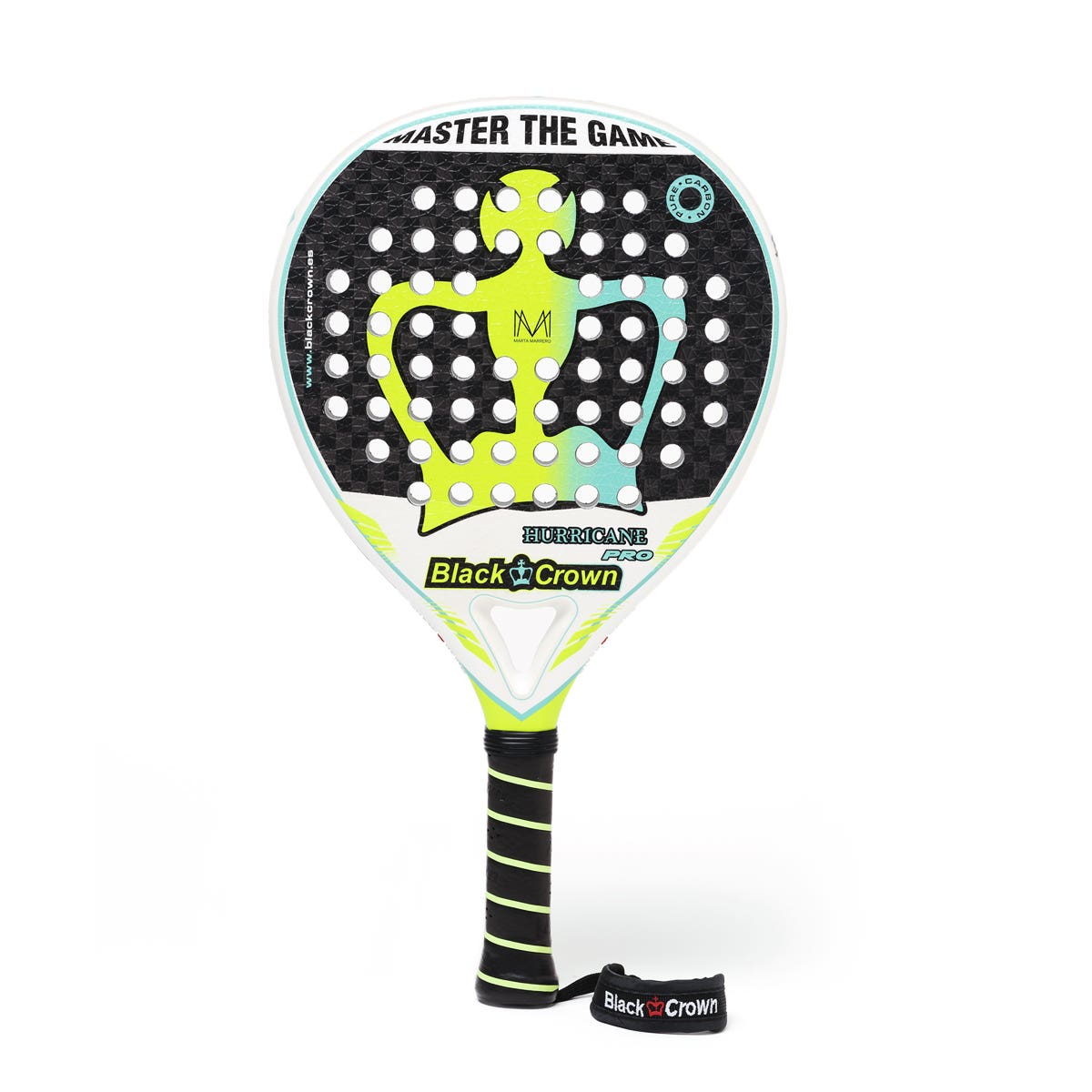 Why buy the Black Crown Hurricane Pro 2022 padel racket?
It is a padel racket with a high balance. This allows for greater forcefulness in all attacks.
It has a long handle. This makes it special for those who like two-handed backhand shots.
What type of player is the Black Crown Hurricane Pro 2022 padel racket for?
It is for padel players of any level who require a racket that ensures a lot of power and precision.
Design and colours
It has a round shape and a very wide contact point. This allows for a lot of force during volleys.
The entire head is bright white. This is contrasted with a line that completely surrounds each face, in a pastel mint green tone. In the middle of these faces, there is a large mass in a matte black hue. In its core, there is a shape with a fluorescent yellow gradient resembling a crown. At the top of each main face, the slogan 'MASTER THE GAME' appears in small letters, and at the bottom, 'Black Crown' appears in outlined yellow letters.
Technical features of the Black Crown Hurricane Pro 2022 padel racket
It features a bi- tubular structure of 80% carbon in the frame, to guarantee absolute resistance.
The faces are made of 12K carbon, to give them a lot of durability.
Its core is made of EVA super soft rubber with SC white EVA memory. This gives it a soft touch.
It has a 5D roughness finish on the main faces. This favours complicated spin.
The heart has a triangular hole, which facilitates swings when responding to attacks.
Level
Advanced / Competition
Players Collection
Marta Marrero Marrero