SKU: 18913-P
Special Price
€130.95
Regular Price
€279.95
The Bullpadel Hack 02 is a racket designed for advanced players, with a MultiEva rubber core, a CarbonTube frame and a Metalshield protector.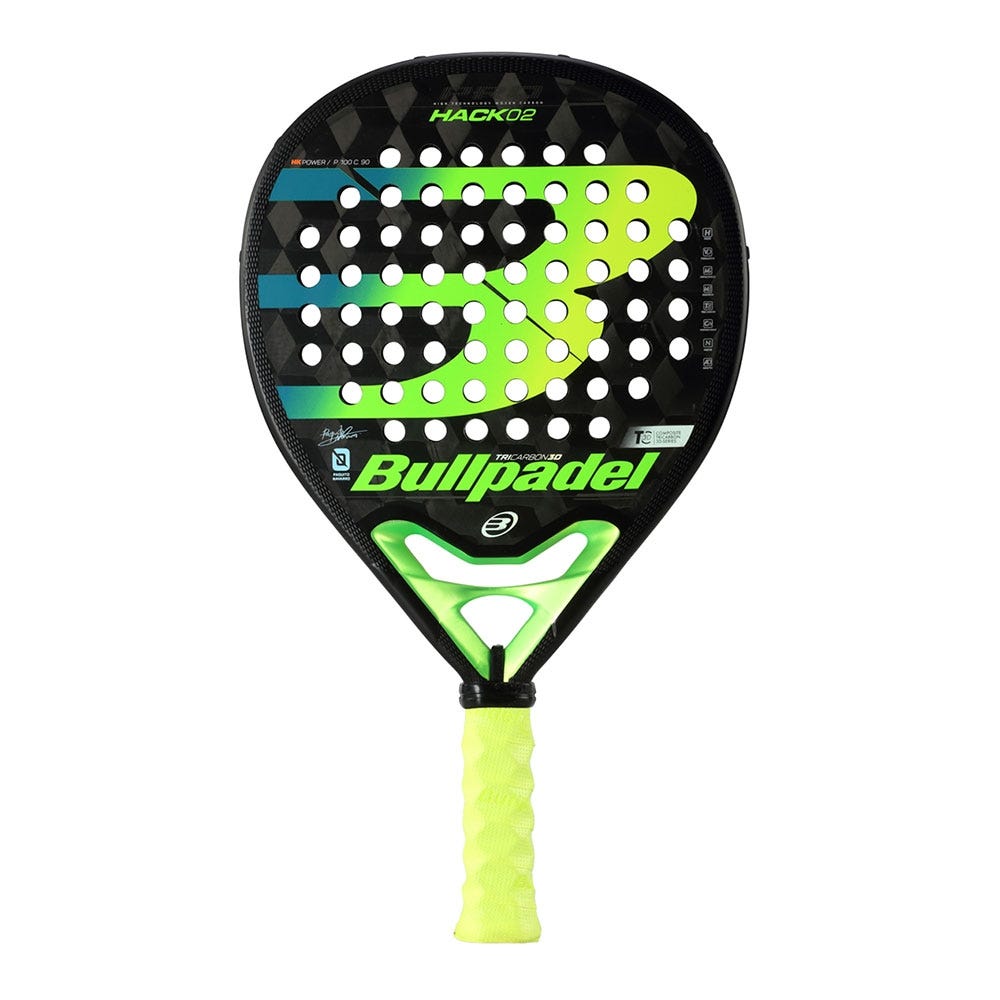 THE BULLPADEL HACK 02, PAQUITO NAVARRO'S RACKET
Presentation
The Bullpadel Hack 02 is Paquito Navarro's weapon. The Bullpadel Hack racket comes in a new format, with greater reaction, control and power than its predecessor. It arrives loaded and ready to beat all its opponents.
Player type
The Bullpadel Hack is created for players with a professional or advanced level who are looking for a racket with lots of power, a high balance and extraordinary technologies that improve sensations on the court. 
Bullpadel Hack. Technical features
It has TRICARBON carbon, achieving more reaction when hitting. This gave way to redesigning the frame by expanding the contact point, giving it more control in terms of game speed. Thanks to this technology, combined with its new format, we obtain a hybrid racket with maximum power, without losing control of the speed of the game.
TRICARBON is a new kind of carbon developed by the Bullpadel brand which, due to its braiding in three directions, allows for the use of thinner and lighter fibre, which provides greater reaction when performing shots. Its core is made of MultiEva rubber and 100% carbon is used for its CarbonTube frame. Bullpadel has incorporated a new Metalshield protector that adapts perfectly to the CustomWeight weight plate system, which allows you to modify the balance of the racket according to your individual needs.
This Bullpadel Hack 02 also has a Vibradrive system to absorb vibrations, a Hack heart with Nano Paint aesthetics to give it a more vivid colour, and Nerve channels on the side of the racket. As a new addition to this Hack racket, it features an innovative Hesacore grip that improves grip by reducing the effort and pressure exerted by the hand, preventing future injuries.
Design and colours
The truth is that the racket's external appearance is also pretty striking. This year, the design has been completely renewed. Paquito Navarro's racket has left behind the orange colour and now boasts a striking green tone. The black base and the details with different shades of green, blue and yellow make up one of the most attractive designs for a racket. We know that when it comes to rackets, for many players it's love at first sight; that's why Bullpadel has also focused on creating attractive, unique and different designs that stand out among the rest of the competition.
Racket summary
Summing up, we can say that this is one of the most incredible rackets on the market, not only because it is used by one of the best players in the world, but because of its quality.
An all-round racket in every way: high quality materials such as carbon, state-of-the-art technologies such as vibraDrive, and a design that quickly catches the eye. A racket that you simply cannot miss out on if you're a demanding player who plays with power. 
Bullpadel rackets - Quality with guarantee
We recommend you take a look at the entire Bullpadel racket collection for the 2020 season. One of the largest collections that includes rackets for all styles of play and levels.
Now, we also think it's worth recommending the new Hack Control 20 racket, which, like Paquito's new weapon, is made with the most resistant carbon. The biggest difference, however, is that it is a racket intended for control players.
Level
Advanced / Competition