SKU: 21763-P
Special Price
€129.95
Regular Price
€360.00
A control racket for professional players, this is the Adidas Metalbone CTRL 2021. With a Spin Blade finish, EVA Soft Performance rubber and Carbon Aluminized composition.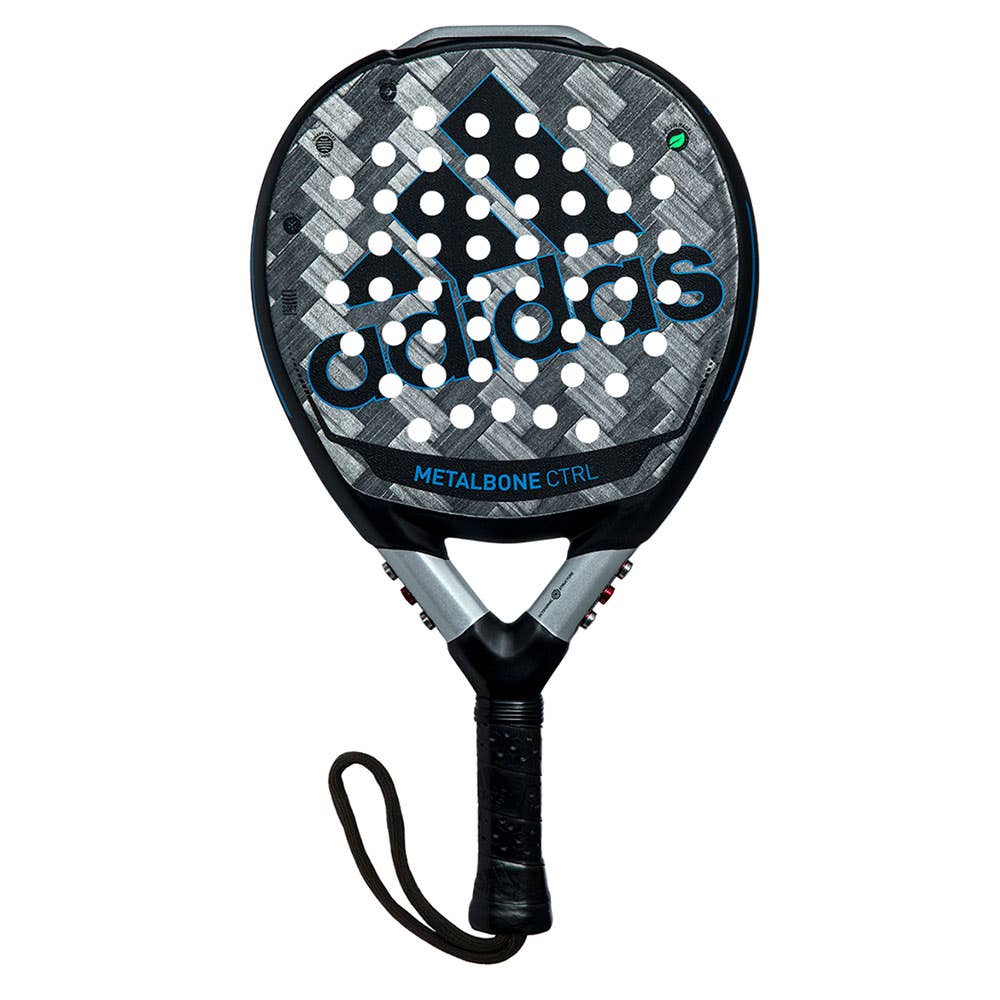 THE ADIDAS METALBONE CTRL, A CONTROL RACKET 
Racket presentation 
Stand out in important padel matches with this adidas Metalbone Ctrl control racket for advanced professional players looking for a racket with great manageability and control. One of the brand's latest innovations, this first Metalbone model takes everyone by surprise thanks to its new technologies, allowing for a high level of customisation. 
It stands out for its novel and innovative Weight and Balance System, which allows you to customise the weight and balance of the racket by means of weights located in its heart. This system allows you to adapt to different games and players.
Player type 
It is designed for advanced players looking for a high-end racket to compete with the best features, highlighting its control and manageability.
Players with a defensive style, but without forgetting power during counterattack shots. Its round shape, customisable weight and balance all allow for a great adaptation to advanced players who seek maximum control in their game with a touch of power. 
Technical Features
Created with a round mould, it has a low balance, although you can change it depending on your preferences through its Weight and Balance System, which allows you to modify the racket's weight by 12 grams.  Its great lightness stands out, weighing between 350 and 370 grams. For a racket with these characteristics, this is below the usual weight. 
Its Octagonal Structure and its CARBON ALUMINIZED composition in the faces adds a boost of resistance and hardness to the structure.  The frame and faces are made of aluminised carbon. This combination offers excellent solidity during shots, providing good ball output. 
Its wide contact point adds a boost of manageability and control to your game. Its core is made of EVA Soft Performance, a rubber that provides extra comfort when hitting the ball as well as excellent spin. 
It has a Spin Blade finish, a type of 3D relief that increases spin in the most demanding shots.
Design
It has a completely fresh design, compared to the previous lines of this great brand. Its shape and aluminised carbon finishes give it a futuristic look in silver grey and blue. An explosive design that turns heads on the court. The incorporation of the Weight and Balance System on the sides adds a touch of extravagance to the racket, designed for glamorous players. 
Summary
If you are a defensive player looking for the best weapon on the court without sacrificing power, the adidas Metalbone Ctrl is for you. A racket with a wide contact point and great lightness offering an irresistible level of comfort while using it. 
Its structure has reinforcements around the perimeter that allow it to generate greater resistance to the high torsions undergone by the racket.
On the top part of the frame it features a rail that increases the structural rigidity in the head, increasing power in the most aggressive shots. This new addition is called Power Groove.
New Adidas 2021 racket collection
The new collection of Adidas rackets for the new season is now available on padelnuestro.com. The brand has put together an extensive catalogue with rackets for all types of players, ranging from amateurs to the most advanced or professional levels. In it, you will find the perfect racket to boost your performance and improve your game.
Among the new models, we must also highlight the power racket of this Metalbone version. A similar model in terms of design that differs due to its oversized diamond shape and high balance.
Level
Advanced / Competition